All jewelry pieces are handmade and one-of-a-kind. Custom or duplicate jewelry can be made with an added fee.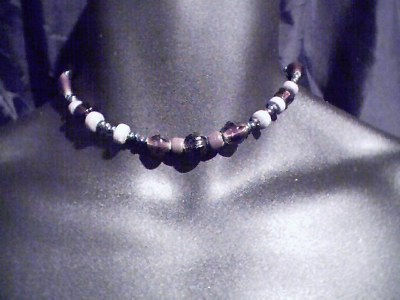 Art-Deco style necklace. This stunning piece contains purple glass beads. It measures 15 1/2 inches. style: nglp, 01004 $13.95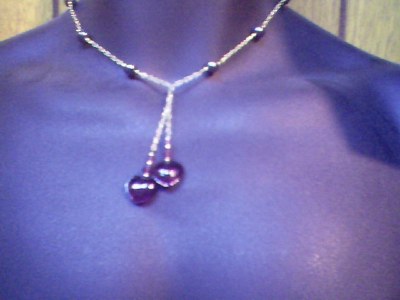 This Y necklace contains hemetite beads and purple glass ornaments. style: nydh, 01022 $22.97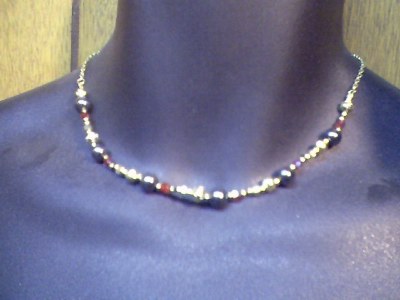 Choker necklace with large hematite beads, fire-polished garnet beads, gold beads and pearls. This necklace looks beautiful alone or with several other single-strand necklaces. style: nhgap, 01015 $17.97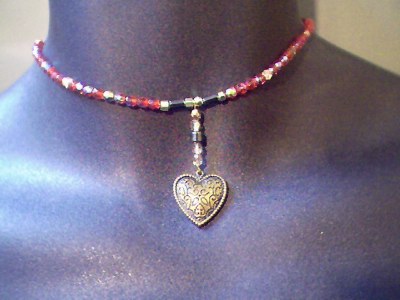 This beautiful choker contains a large antiqued heart pendant, hematite beads, and fire-polished garnet beads. This is a beautiful piece for both casual and formal occasions.
style: ngbh, 01040 $17.95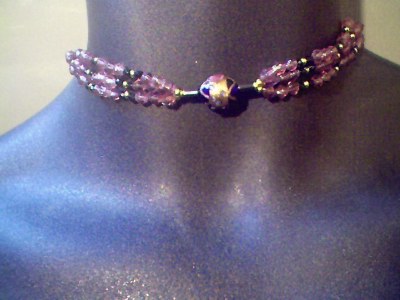 This is a triple-strand choker with a blue glass lamp bead as its centerpiece, amethyst and hematite beads. style: ntsalb, $23.97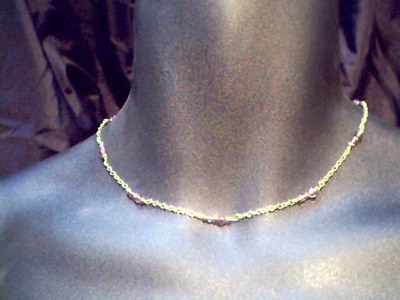 This graceful necklace has fire-polished amethyst beads. It goes beautifully with white, pink, cream or lavendar attire. style: namb, 01030 $17.97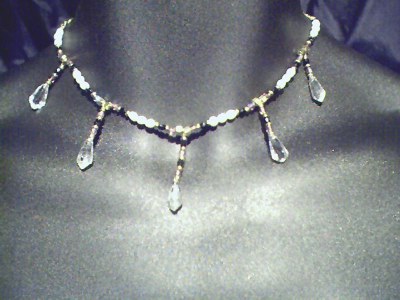 This necklace has 5 tear-drop crystals, hematite and garnet fire-polished beads. style: nhgdg, 01021 $21.97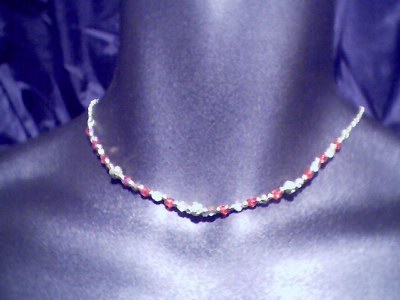 This beautiful single-strand necklace has fire-polished garnet beads, gold beads and antique rose beads. This is another piece that looks great alone or with other necklaces. sstyle: nrgg, 01033 $17.97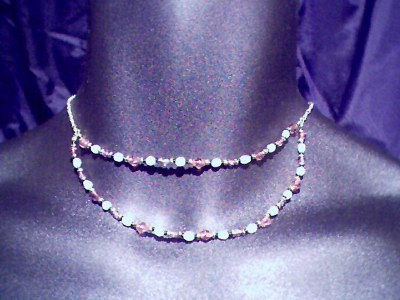 This double-strand necklace workd well with casual or formal attire. It has fire-polished amethyst beads and freshwater pearls. style: ndspam, 01034 $24.97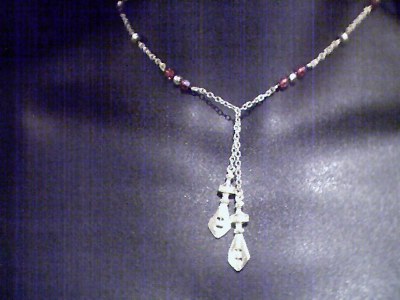 This Y necklace works well for any occasion. It contains gold and garnet fire-polished beads and beautiful charms. style: nydgb, 01035 $17.97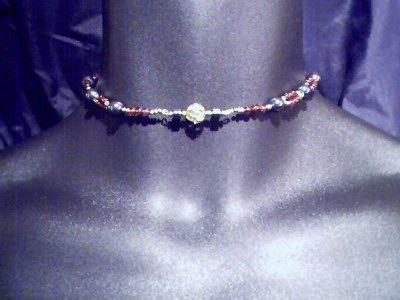 This great choker has gold and hematite beads in the center, then splits to a double-strand piece containing genuine garnets and gold beads. style: nghc, 01036 $28.97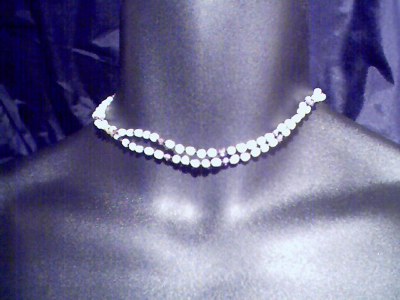 This double-strand choker contains genuine freshwater pearls and fire-polished amethyst beads. style: ndspa, 01037 $29.97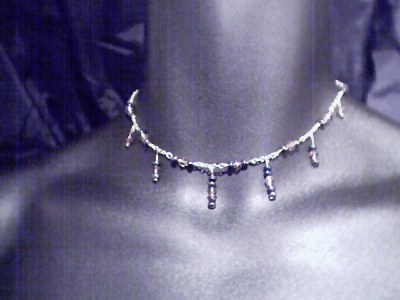 This would be a great prom or bridesmaid necklace. It has graduated amethyst-bead drops and iridescent beads. style: ndab, 01038 $16.97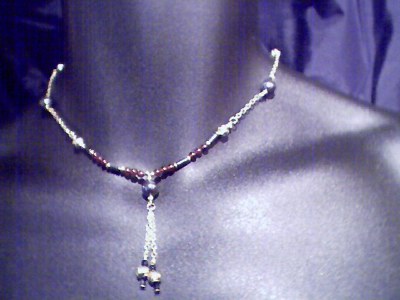 This Y choker-style necklace has antiqued rose beads, genuine garnet and hematite beads. style: nydhg, 01032 $22.97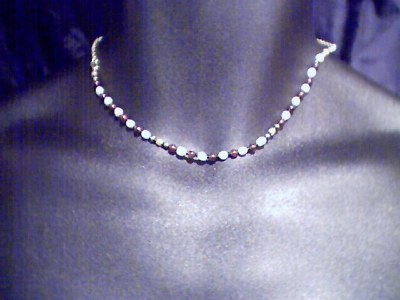 Another piece that looks great alone or doubled, this single-strand necklace has genuine garnets and freshwater pearls. style; nsgp, 01029 $23.99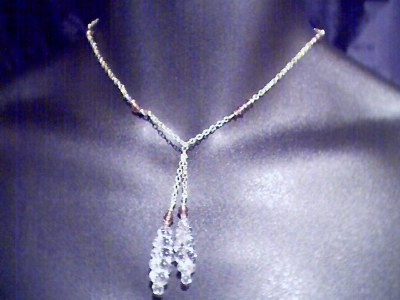 This is a really fun piece. The clear grape charms are great for any occasion. This piece also contains fire-polished amethyst beads. style: nyad, 01028 $17.97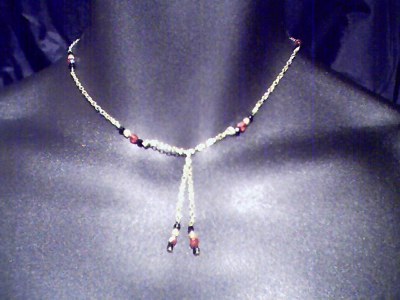 This double-Y necklace goes with almost anything. It has fire-polished garnet, gold and onyx beads. style: nygd, 01027 $17.97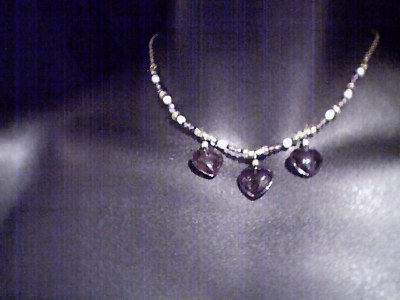 This necklace contains three heart charms and has genuine freshwater pearls. style: npamdg, 10126 $21.97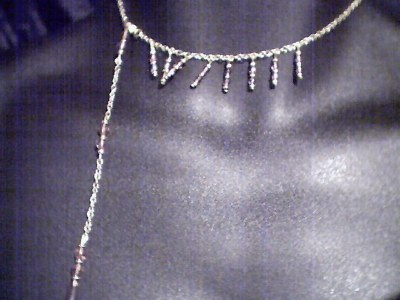 This necklace is patterned after one seen modeled by Tyra Banks. It clasps on the side and has fire-polished amethyst beads. style: namtb, 01025 $27.97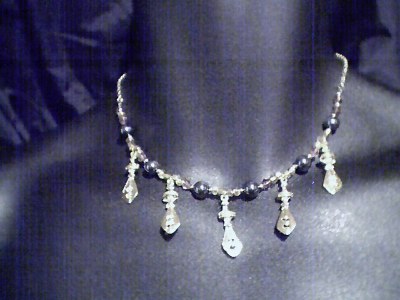 This necklace has 5 charms attached to hematite, gold and amethyst beads. style: nhamd, 01024 $17.97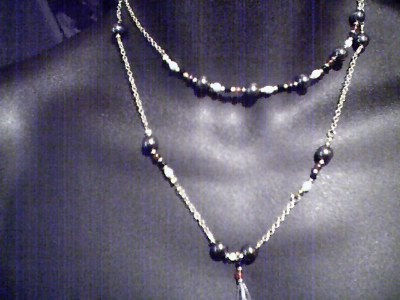 This necklace is patterned after the traditional Elizabethan-style necklace. The choker strand consists of genuine garnets, freshwater pearls and hematite beads. The longer necklace consits of a teardrop charm, geniune garnets, freshwater pearls and hematite beads. style: nezhgp, 01020 $28.97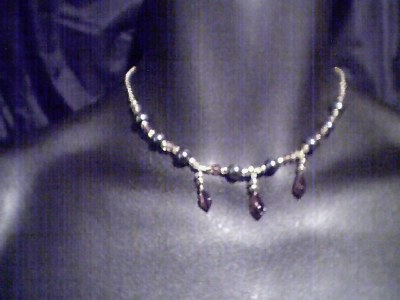 This nice choker consists of three amethyst drops and hematite beads. style: nhamdg, 01019 $21.97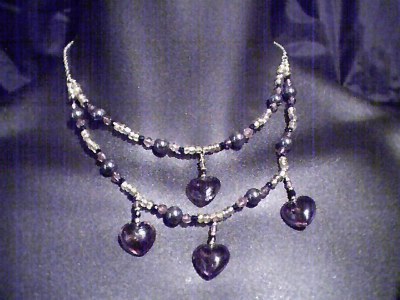 This is another version of the Elizabethan-style necklace. Both strands consist of hematite and amethyst beads. style: nhamds, 01018 $23.97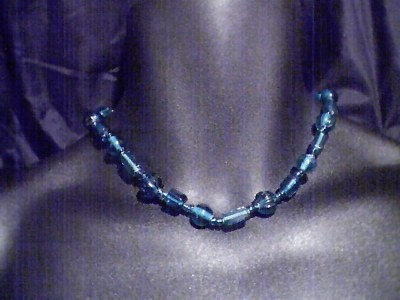 This turquois-glass necklace is remminiscent of the 1920's era. style: nglg 01011 $10.95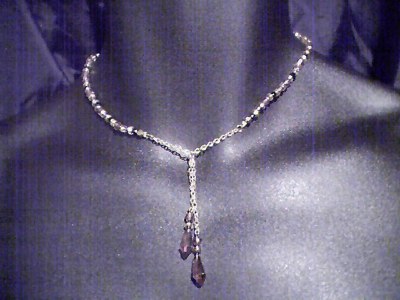 This simple Y necklace has amethyst teardrops, fire-polished amethyst beads and gold and onyx beds. style: nybam, 01012 $18.97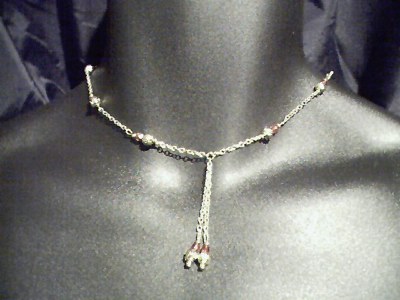 This Y necklace has antiqued rose beads and fire-polished garnet beads. style: nygad, 01017 $21.97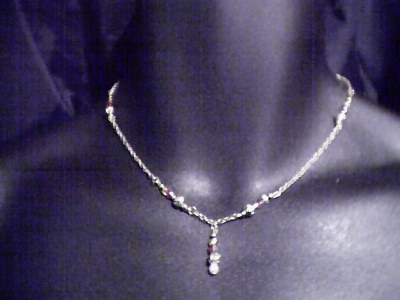 This necklace has antiqued rose beads, fire-polished garnet beads and gold beads. style: nybga, 01006 $17.97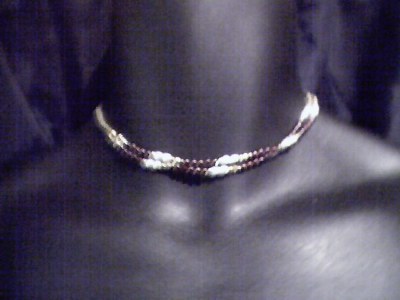 This necklace is the perfect prom or bridesmaid necklace. It is a double-strand choker with genuine garnets and freshwater pearls. style: ndsgap, 01007 $24.97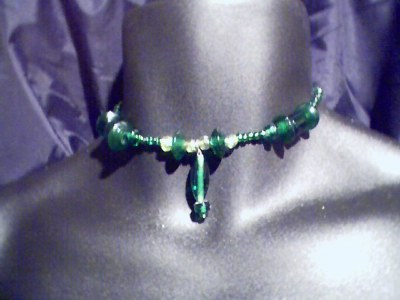 This is a fun green glass bead necklace. Great for St. Patrick's Day! style: nglg, 01001 $9.95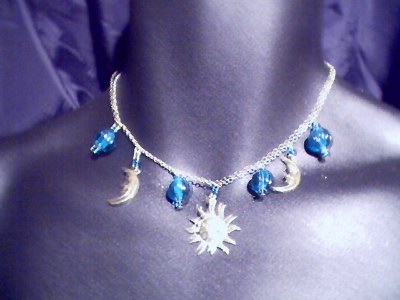 This celestial piece has turquoise glass beads and celestial charms. style: nglc 01003 $13.95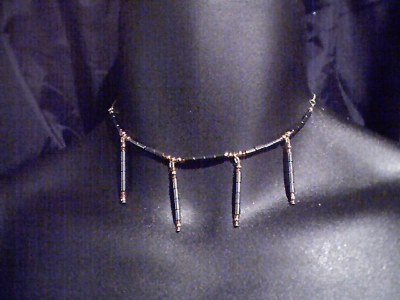 This is a great Gothic-style choker. It has red and hematite beads. style: nhdg , 01010 $16.97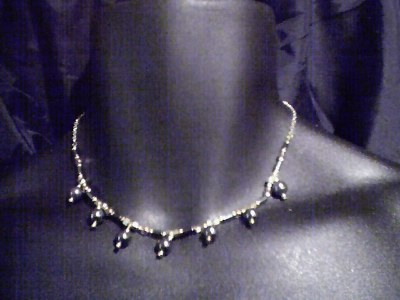 This great choker has hematite and gold beads. style: nhdg, 01016 $17.97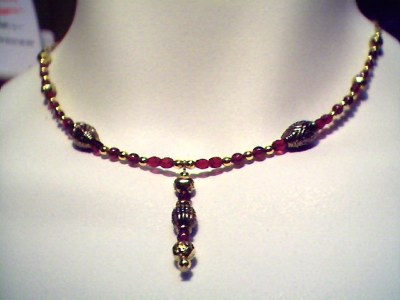 This is a beautiful choker that has matching earrings. Both have genuine garnet and large rose beads. Necklace $27.97, earrings $7.00, set $32.45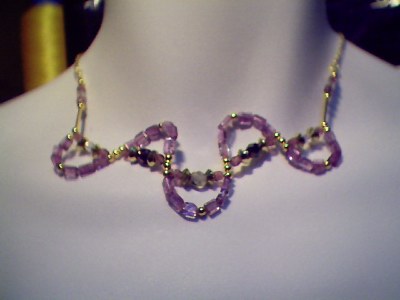 This is a variation of another necklace. It has genuine amethyst, gold beads and fire-polished crystals. $35.97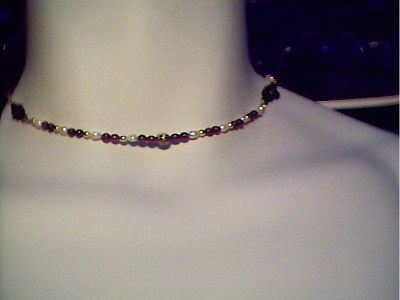 This simple